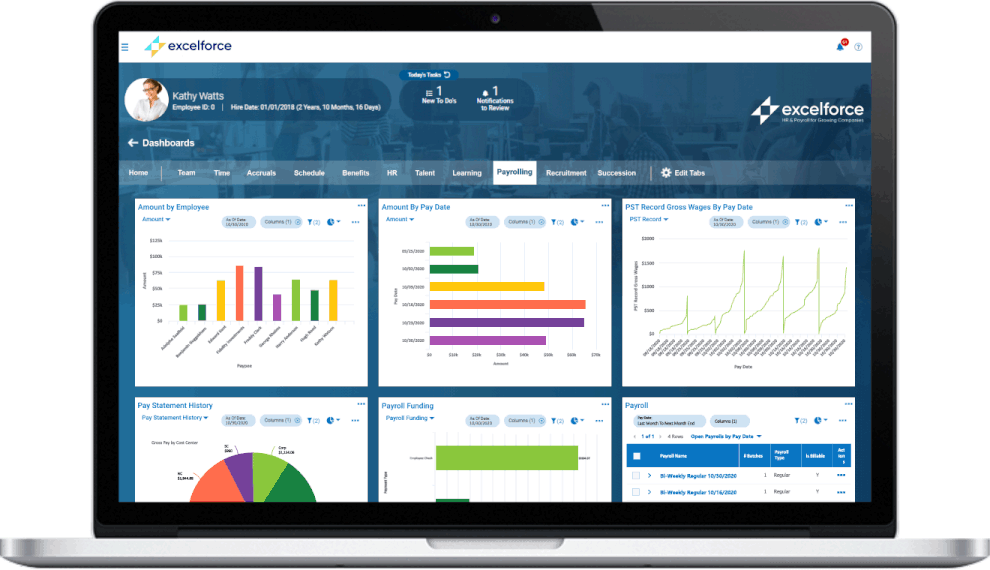 Control, manage, and complete payroll on time, every time. Our unified platform merges the essential functions of payroll into one easy-to-use solution, no matter your business size.
In addition to a robust payroll platform, we offer highly personalized services. Our clients receive a dedicated representative familiar with their industry and their specific business needs.
At Excelforce, we specialize in serving growing and evolving companies. Our scalable payroll solution
is designed to grow with you.

Payroll professionals have a high bar to meet. Manual labor and endless paperwork make that bar much harder to reach. Our payroll software automates manual tasks and vastly reduces paperwork, reducing completion time down to seconds. Our automated payroll solution is powered to improve efficiency—from payroll processing to tax reporting, workers' comp, labor cost allocation, vendor management, employee self service, and more. Your employees matter. Your time matters. Transform your payroll processes through advanced technology that produces real results.
Payroll Services Designed
For You
Save time and gain efficiency.
Our Payroll Solution is designed with your business in mind, whether your company is an SMB, large organization or somewhere in between. Our payroll solution is developed for flexibility and scale, and a robust feature set will ensure that your business is ahead of the technology curve. Process payroll in real-time with the click of a button and ensure your employees always get paid on time.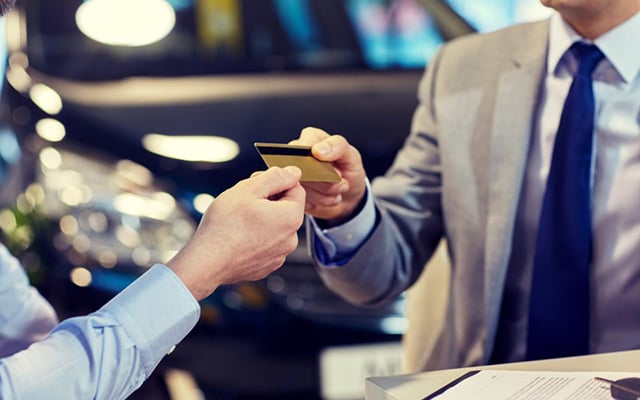 Payroll Debit Cards
Some employees cannot get a checking account. Others choose not to get one. For these employees, direct deposit isn't an option. Excelforce offers a FREE solution: a payroll debit card for employees who do not have a checking account. Supply these employees with an easy, convenient way to get paid.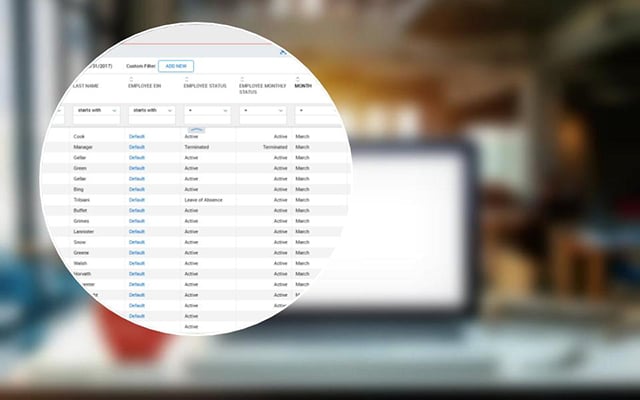 ACA Compliance Made Simple
Our ACA Manager takes the headache out of ACA reporting. Consolidate ACA-related data for eligible employees onto a single platform. Utilize tracking and dashboard alerts to meet IRS reporting requirements. File 1094 and 1095 forms correctly, by the deadline. Rely on a system that stays up-to-date as federal law changes.
Tax Services
We go beyond basic payroll. We electronically pay and file your federal and state taxes with the government. This includes your quarterly Form 941, annual Form 940, and state quarterly and annual filings. Excelforce guarantees you won't pay any penalties due to payroll tax errors that we make. If errors do occur, we will pay the resulting penalty.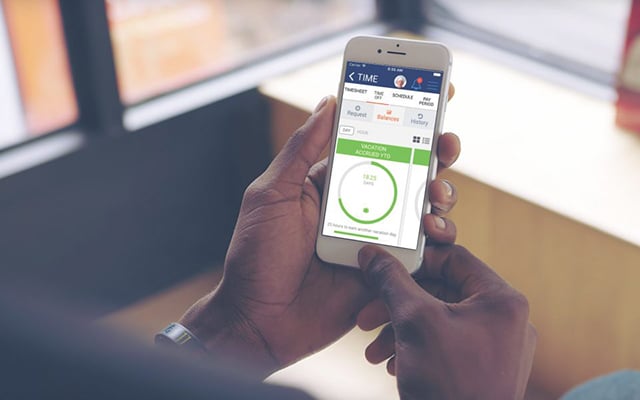 Employee Mobile App
Employees can securely access the Excelforce employee portal from anywhere, at any time, from any device. Through the portal, employees can view payment details, total earnings, deductions, net pay, and make certain changes to their payroll record. Empower your employees via an app that makes life easier for everyone.
Want To Learn More?
Download The Payroll Solution Guide.
Looking to simplify your entire payroll process while ensuring accuracy? Our payroll solution, a module in an integrated, cloud-based human capital management (HCM) suite, continually processes payroll in real time so it's ready at the click of a button.
Why Clients Love Our Payroll Solutions
"We needed to streamline the payroll process, and now it takes 1/2 the time it did with our previous provider. Excelforce offers a great product and my favorite part is that I can customize any report to create exactly what I need."
"We have used Excelforce for the past two years. Prior to Excelforce, payroll was a difficult and painful task. We have found Excelforce to be quick to answer questions, extremely efficient, and insightful in sharing new information that pertains to our business. Most helpful is the amount of time and energy that Excelforce has saved us. Our only regret is that we did not take advantage of the services that Excelforce sooner."
"I did not expect much since it this was my first time using a payroll software but I was surprise how simple and straight forward the system was for a first time user. The system is very versatile for all Payroll and HR needs, and customer service is always excellent!"
"At first we were a little apprehensive about leaving one of the "big national" names, but it has been a win-win over these past several years. Not just have we seen significant savings, the level of service is better than what we were experiencing. The response times when we have a question is incredible and our Client Representative is extremely attentive to our needs. Excelforce provides great service at a fair price, and that equals an excellent value to their clients."