Our complete Payroll Solution can help!
Our payroll solution, a module in an integrated, cloud-based human capital management (HCM) suite, continually processes payroll in real time so it's ready at the click of a button. This powerful, easy-to-use payroll solution provides the tools needed to help you control labor costs, minimize compliance risk, and improve workforce productivity.
Key Benefits:
Get Up-To-The-Minute Payroll Information.
Deliver Timely, Accurate Payments.
Ensure Accuracy of Employee Withholdings.
Empower Employee Self-Service.
Free IT from Maintenance and Upgrade Hassles.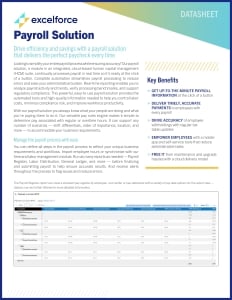 Download Payroll Solution Overview