Our Payroll Feature List Shows What We Have To Offer!
Our payroll solution is so versatile, it can be hard to take in all of the features it offers that will help your business. Our feature list provides an easy-to-follow breakdown of our payroll platform so you can take advantage of every single asset our platform has offer.
At Excelforce, our mission is to provide you with all the easy-to-use tools you need to learn how to efficiently manage employees and a thriving business. To make your transition even easier, we are thrilled to introduce our Payroll Feature List, designed to teach you all you need to know about our payroll solution.
Some Highlights Covered:
Benefits Administration
Outsourced Payroll Services
Payroll Setup
Payroll Reporting
and Much More!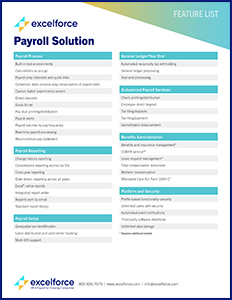 Access the Payroll Feature List