Maximum employee involvement begins with creating a positive, encouraging workplace culture and environment during the onboarding process, and beyond. Creating this kind of supportive environment begins with how management and supervisors prepare new employees.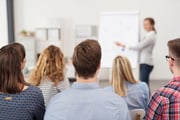 Use the "Parenting" Method
Here's another good approach used by a Chamber of Commerce executive:
"I use the 'mothering' method of management," said Robin Anderson, Chamber exec in Mason City, IA. "I find out what is important to the members of my team — what makes them tick — and then reward good performance by helping them achieve their goals, whether that means financial incentives or schedule modifications."
Using this approach just as a successful parent doesn't treat all of her children exactly alike: don't automatically treat your new employee just as you'd treat most or all of your other employees. Look for the motivators and rewards that will work best for the individual.
Anderson explained: "For example, if someone on my team is a good performer, and what really matters to them is getting off work early every Thursday to see their child's baseball game, it's my job to try to make that happen. If another employee is interested in volunteer work and consistently helps us achieve our business goals, I look for opportunities for them to volunteer."
Onboarding New Hires to Turn Them Into Productive Employees, Quickly
Here are five tips for managers and supervisors for when it comes to training and onboarding new employees:
Clearly Define Performance Goals & Standards
Make sure the new employee has a job description. Consider signing an agreement with the employee which clearly lists the employee's work standards. This shows new employees that you are serious about their job performance.
Note #1: Wishy-washy standards won't do it. Example: "Operate the widget machine." Instead: "Operate the widget machine, producing an average of 35 widgets per hour with less than two errors during the shift."
Note #2: Include in all employees' job descriptions requirements to participate in the organization's employee involvement program or employee suggestion program. Such a statement could be: "Submit to your supervisor or team a minimum of one new idea to improve product quality or service each month."
Consistently Communicate with New Hires
Communicating with employees is especially important with new employees. Think of new employees as aliens dropped in from another planet. Because they have only the barest facts about the work standards in their new work world, they crave constant feedback. And you're the one who can tell them if they are meeting these standards.
And this applies to communicating your expectations for the new employee to get involved in continuously coming up with new ideas to improve your products and services, and to cut costs and save money. If this is an important activity in your workplace you must communicate this to new employees, with sufficient details so that they know exactly what is expected and how they are to be involved.
Point Out Mistakes & Show New Hires the Right Way of Doing Things
We all make mistakes. Especially when we learn a new task. The sooner you point out mistakes to new employees, the easier it is for them to correct the mistakes.
Here's a technique that's good when correcting new employees' mistakes. Own up to your own mistakes.
Example: "When I first ran this pump, I left a valve open and caused a flood in the basement!" The new employee is put at ease because you, as the boss, can admit to your own bloopers.
Reward Excellent Performance & Productive Behavior
Humans value words of praise when they learn tasks. That's why it's important to praise new employees as they master tasks. They not only feel like they're beginning to fit in, but your appreciation acts as a foundation for long-term employment at your firm.
Make a public show of your appreciation at a staff meeting, a special luncheon or an informal gathering at the break table. Publicly pat the new employee on the back. Tell co-workers how well the new employee has performed a task.
Thanking a new employee, and showing appreciation, when the employee comes up with new ideas is extremely important. You can expect many new employees to come into your workplace with unique experiences that will prompt them to see numerous ways in which they believe your products and services can be improved. When a new employee shares a new idea, it is essential that he or she immediately receive appreciation and recognition. Otherwise, this will work to extinguish the employee's enthusiasm and dampen that person's continued involvement in sharing new ideas.
Make New Hires Feel Like Part of the Team
New employees won't belong to your team until they plug into your organization's social network. Ask new employees about their hobbies. Go the extra mile to match the employee with co-workers who have similar interests. And be sure to include him or her in impromptu gatherings of staff at a restaurant for lunch or at the bar for an after work drink.
A good employee onboarding process will also help improve employee retention, as well as turn new hires into productive employees, and quickly. If you are a New York-based employer looking for help with things like employee onboarding then perhaps Excelforce can help. Contact us today to see how we are already helping countless companies quickly turn new hires into productive employees.