Check the Benefits of Cards for Payroll Processing
If your company has a lot of employees who don't have bank accounts or who work on the road or in remote locations, a payroll card system could save your business money in processing costs while making it easier for employees to access their wages.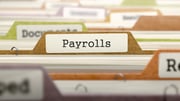 Before signing with a payroll card provider, Consumers Union suggests considering these points:
Be sure the payroll card company is financially sound. If a provider goes out of business, your employees could lose the money remaining on their cards.

Insist on consumer protection equal to bank debit cards.

Negotiate no fees or low monthly fees for employees, or pay them for the employees. Some states require that employees be able to access their pay without fees.*

Identify and restrict other fees. Some issuers charge fees for each minute of customer service, for loading wages onto the card, for exceeding a specified number of transactions, for replacing lost cards and more.

Review the options the card offers, such as paying bills directly or transferring money into another account.

Review the overdraft policy. Some companies charge a $29 overdraft fee.

Give employees the choice of receiving paper checks.

Require privacy protection. The issuer should ensure that it will not sell or share information.

Choose a card that offers information in languages other than English.
*Caution: Companies which do not offer alternatives to debit card payment need to tread carefully. For hourly employees who make minimum wage or close to it, mandatory debit card fees can effectively reduce their pay to below minimum wage. In such cases, the employer could find they have run afoul of the law. If this is your situation, consult with your accountant to find out what you need to do.
Direct deposits are less expensive, but are of little use to employees without bank accounts. By one estimate, some 30 million American consumers (representing one quarter of households) do not have bank accounts. These employees have limited choices for accessing their wages.

The costs vary, but payroll cards are often less expensive than the fees for processing and issuing paper checks. They also eliminate the need to deal with lost or stolen checks, according to the U.S. Office of the Comptroller of the Currency.

With a payroll card, you load an employee's net pay onto a plastic card that resembles a debit card. There's no paper involved. Employees can then withdraw money at ATMs or stores with credit card hookups.
The cards provide several other advantages to employees without bank accounts, including that they:
Eliminate the need to spend time in line cashing checks and carrying around large sums of cash.

Reduce or eliminate fees associated with cashing a check at a bank where they have no account (Employees may, however, have to pay fees for withdrawing funds from an ATM. Some employers arrange to pay these fees).

Avoid check cashing companies that charge a percentage of the amount of the check.

Facilitate online purchases, which can be difficult without a bank account or credit card.
The downside is that payroll cards may not receive full protection under the Electronic Funds Transfer Act (EFTA), unless they are linked to individual accounts established by the employer.

The EFTA gives debit card holders the right to have funds returned to their accounts within 10 days when a verifiable theft or bank error has occurred. They also have the right to limit the amount of loss from stolen cards.

Among other things, the EFTA asks issuers to provide periodic account statements to track account activity, and to provide a system to resolve errors and steps to resolve unauthorized transactions in the case of stolen or lost cards.

For accounts not protected by the EFTA, you can negotiate to have a separate account set up for each card, or contract with the payroll card issuer for the same protections consumers have under the EFTA.

How much can you really save by adopting the use of payroll cards? Obviously, the answer depends on the size of your company and other variables.
Here's an example: Several years ago, the Kansas state legislature passed a law allowing companies to pay employees either by direct deposit or with payroll cards, in an effort to achieve paperless payroll.
One not-for-profit agency in Wichita, Kansas told a local newspaper the change would save them an estimated $6,500 each year, as well as a great deal of administrative time.