Our Time & Labor Solution is here to help!
Looking to gain a competitive advantage and drive bottom-line results? Our time and labor solution, a module in our integrated cloud-based human capital management suite, provides the complete automation and high quality information you need — when and where you need it — to help your organization control labor costs, minimize compliance risk, and improve workforce productivity.
Key Benefits:
Capture Accurate Timekeeping Data.
Track and Understand True Labor Costs.
Maintain Compliance
Manage Expectations
Implement Schedules
Free IT from Maintenance and Upgrade Hassles.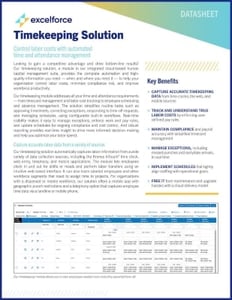 Download Time & Labor Solution Guide