Effectively source, track, and evaluate talent with our solution!
Our talent acquisition solution helps your organization source, track, and
evaluate quality talent so you can build an engaged, high-performing workforce
more efficiently and cost effectively. This powerful solution automates and
streamlines recruiting and hiring processes to support a paperless human
capital management (HCM) environment.
At Excelforce, our mission is to provide you with all the tools you need to learn how to efficiently manage employees and thriving business. We are, therefore, thrilled to introduce our talent acquisition solution guide, designed to teach you all you need to know about our talent solution
Some Key Benefits:
Automate Recruiting Processes
Create Job Requisitions
Proactively Source Candidates
Deliver A Great Candidate Experience
and Much More!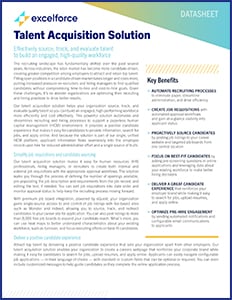 Access Our Talent Acquisition Solution Guide