Our Scheduling Solution Can Help!
Workforce scheduling can be a complex, time-consuming and downright frustrating task. You need to match employee availability, preferences, seniority, pay rates, skills, and certifications with fluctuating business demand to maximize productivity, engagement, and profits. How can you schedule the right employee without overspending your budget or burning out your employees
At Excelforce, our mission is to provide you with all the tools you need to manage employee time and thriving business. We are, therefore, thrilled to introduce our scheduling solution, designed to take that burden off your shoulders.
Some Package Features:
Schedule The Right Employee
Control Labor Costs
Improve Workforce Productivity
Minimize Compliance Risk
and Much More!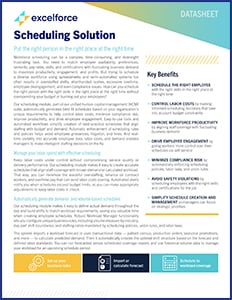 Download the Scheduling Solution Guide