Getting Payroll Right Is Critical To Success!
Millions of workers depend on payroll professionals to get payroll right. We know that payroll has become an increasingly complex process, which is why it is important to understand what kind of payroll errors you might be making.
At Excelforce, our mission is to provide you with all the easy-to-use tools you need to learn how to efficiently manage employees and a thriving business. We are thrilled to introduce our Guide to Accurate Payroll, designed to teach you all you need to know about the role of proper payroll.
Start perfecting your imperfections, and ensure that you're addressing any and all errors that may be lurking in your payroll process.
Our Guide Covers Topics Such As:
The far-reaching impact of payroll errors
The big difference a little improvement can make
Payroll done by hand versus a payroll system
and Much More!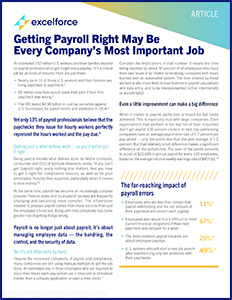 Access the Guide to Accurate Payroll