Our HR Support Center Can Help!
As a business owner, you know your products and your customers. But perhaps the most challenging aspect of running your business can be your employees. Not that they themselves are an issue, but the nuances and laws surrounding them can be quite confusing and time-consuming.
At Excelforce, our mission is to provide you with all the tools you need to manage a viable and thriving business. We are, therefore, thrilled to introduce our new, full-service HR Support Center, designed to take that burden off your shoulders.
Some Package Features:
"Ask The Pro" Consulting
"Up-to-the-Minute" Ticket Tracking
Custom Employee Handbooks
Custom Job Descriptions
and Much More!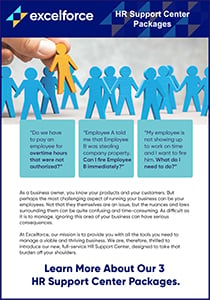 Download the HR Support Center Overview